---
These equipment are available in standard size range of 600, 400 and 300 mm, and can be arranged individually or severally in tandem. These equipments are available for maximum inlet of 8 mm high carbon steel. Minimum finish size recommended is 22 swg. These equipments are in use at speeds from 2 to 12 mt/sec, and are very popular for high, medium and low carbon steels as also stainless and alloy steel materials.

The construction of machine provides for a vertical drum mounted on an integral gear box with extra features such as overhead take-off automatic wire-break stoppage, protection for operator with wire mesh screens, inching, foot switch, sequence contr6l and jerk -free start.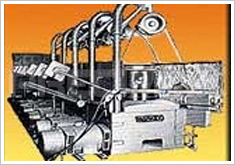 ---
Stress-relieving, patenting, strand annealing, tinning or galvanizing lines for carbon steel. stainless steel, mild steel, etc. The system consists of multiple station arrangement, with coiling machines to move wire from station to station. These facilities can handle various processes and coating operations in a single line These furnaces are available in continuous lines up to forty heads operating simultaneously complete with pay-offs. cleaning range. guide rollers coiling machines, controls, etc.